Expanded metal design ceilings
Expanded metal is characterised by its distinctive and unique appearance. It is suitable for use as a functional ceiling with a large free cross-section for ventilation and smoke extraction functions or as an effective acoustic ceiling with outstanding sound absorption values.
Further information about our expanded metal ceiling systems can be found via the following link:
further reading:
THE JOINT MAKES THE DIFFERENCE
The expanded metal tiles are supplied in three different versions.
Tile type A: Webs butt-welded
Tile type B: Webs folded
Tile type C: Tile made of sheet metal, expanded metal mesh inserted and fixed
The joint pattern differs depending on the tile type, with the spectrum extending from zero-gap to a joint width of 20 mm. The overall appearance of expanded metal ceilings is determined by the mesh size in combination with the joint pattern.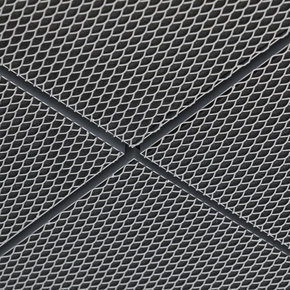 SYSTEM DIVERSITY – OPTIMUM TAILORING TO THE CEILING REQUIREMENTS
Expanded metal ceilings are available in several different versions. The tiles can be opened and closed without the use of tools. Expanded metal ceilings are available as a lay-in system in T24 system rails, as a support system on edge brackets and as a hang-in system with Z, DZ and H38 shaped profiles.
further reading: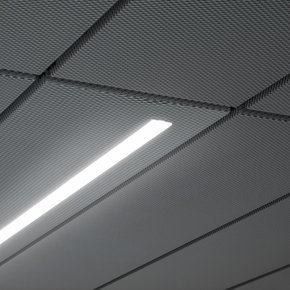 EXPANDED METAL CEILINGS WITH MATT SURFACE
The expanded metal tiles are coated with matt PARZIFAL stove enamelling. This makes their appearance particularly homogeneous and elegant. Coating is possible in all RAL colours.
further reading: