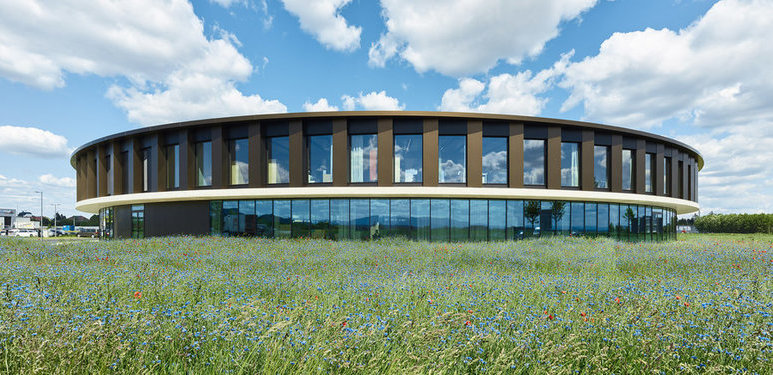 Legero united campus
Dietrich | Untertrifaller Architekten/Feldkirchen bei Graz, 2019
The shoe manufacturer Legero with the brands Legero, Superfit, Think! and Vios has built an impressive headquarters in Feldkirchen near Graz: The new building consists of two rings of different sizes. Says architect Much Untertrifaller: "Exciting, flowing sequences of spaces with a wide variety of interior and exterior features were the goal; distinctiveness and character are thus guaranteed."
Rectangular metal ceilings are, at first glance, a challenging choice for the building's ring-shaped floor plan. However, close cooperation with the architects resulted in an optimal solution for the larger office ring: Long span tiles with a hang-in system in a trapezoidal shape along the aisle as well as floating ceilings with heating and cooling functions and Opticlean ventilation above the workstations provide an attractive contrast to the visible wooden surface of the structure.
The metal ceilings are perfect in form and function. The rectangular ceiling sails (160 pieces in the size 950 x 4550, 2-piece and 133 pieces in the size 1050 x 3050, 1-piece) were mounted with different distances to each other adapted to the floor plan. During production in the factory, the entire substructure as well as the aprons were already pre-bent in the specified radius and the cut-outs for the building services were made. This ensured quick and easy assembly on the construction site.
| | |
| --- | --- |
| Project data | |
| Perforation: | Rg 3 – 20% |
| Colour: | RAL 9006 |
| System: | Floating ceilings, Z-hang-in system |
| Metal ceiling area: | 300 pieces floating ceilings, 460 m² |
| Function: | Acoustics, serviceability, cooling and heating |
Photos: Bruno Klomfar