Light design
The aim of light design is to lend rooms a positive, emotional character. The type and construction of the lighting employed should be ideally coordinated with the intended application.

Several fundamental variants of how lighting can be employed in corridors and rooms are shown below. Fural provides appropriate installation solutions for each of the variants shown. No matter whether a cut-out is needed or a complete system, such as FP-Secure, is the right solution.
Integrated
Integrated lighting lends the room clear lines and a high-quality character. If the light is already integrated into the ceiling tile at the factory, it impresses in the construction phase with high planning security and simple installation.

This solution is ideally suited to F30/F90 fire protection ceilings. Several design variants are conceivable here:
Long-span light flush
Long-span light with installation frame
Downlights, round or square
Emergency lighting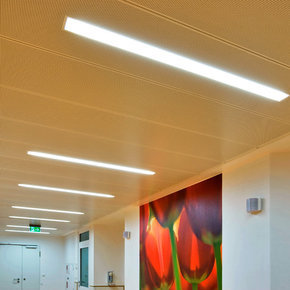 Surface mounted
Lights can be retrofitted and wired onto the ceiling tile. Corresponding cable lead-throughs can be created subsequently on site or considered directly ex works.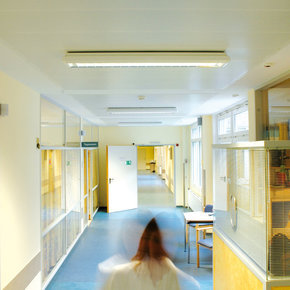 Strip lights
Strip lights are another elegant way of bringing light into corridors and hallways. The lamps are integrated into lighting ducts provided along the wall with the substructure of the metal ceilings forming the base.

Strip lights can also be integrated directly into the ceiling elements. The necessary cut-outs and tile formats are produced individually for the project in question.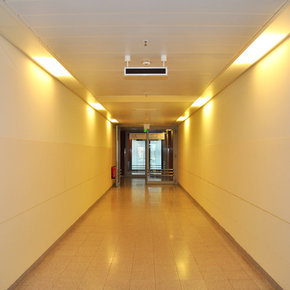 Suspended
Suspended lights allow a particularly individual design of room. There are no limits to the possibilities.
Necessary cut-outs for cable lead-throughs and anchorings can be provided ex works.