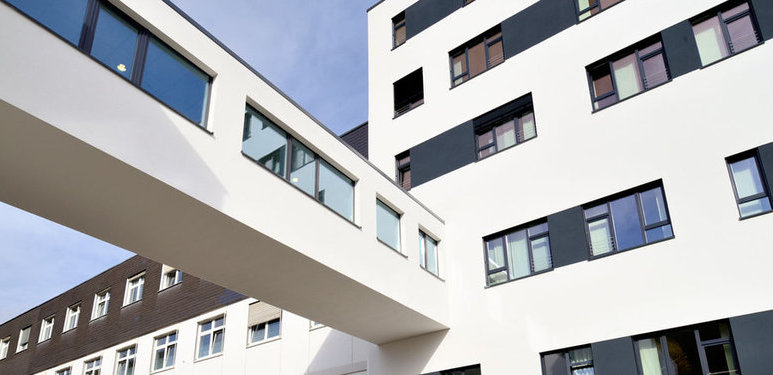 SIEGEN DISTRICT HOSPITAL
Ludes Architekten / Siegen 2013
With almost 9,600 m² total floor area, 223 beds and the state-of-the-art hospital equipment, Siegen District Hospital has now combined its two previous sites into one with construction of a new 6-storey building. This was achieved in a construction period of only 16 months through a combination of conventional and modular construction.
In the corridors, approx. 1,200 m² of FURAL F30 fire protection ceilings and SWING F0 ceilings ensure optimum fire protection and sustainable LED lighting. A total of 409 FP-Secure LED lights were installed in the new building, 79 of them in the FP-Secure Gypsum variant. The benefit of this solution is that the same lighting type could be installed in both the fire protection ceilings and the areas in which GK ceilings had to be installed, thereby ensuring a uniform appearance.
Thanks to the FURAL LED lighting, the hospital saves approx. 90,000 kWh of electricity or 55,000 kg of CO2 per year.
| | |
| --- | --- |
| Project data | |
| Perforation: | Rg 2,5 - 16 % |
| Colour: | RAL 9010 |
| Metal ceiling area: | 1.200 m² |
| System: | Floating ceiling aus Bandraster- und Einhängesystem |
| Function: | Acoustics, Fire Protection, Lighting |
| Features: | 409 FP-Secure LED lights, thereof 79 as FP-Secure Gypsum variant |