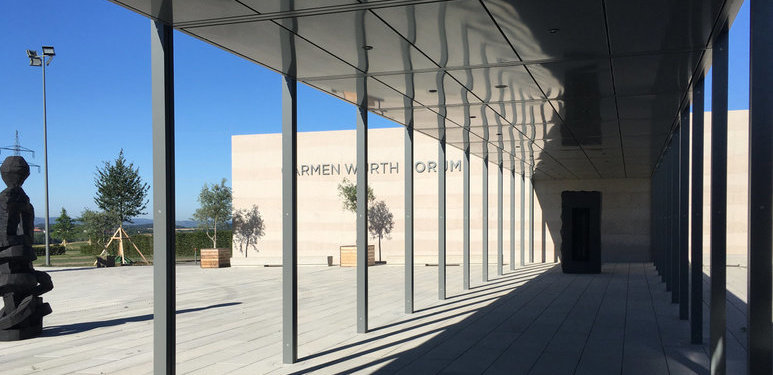 Carmen Würth Forum
Kraft + Kraft Architekten
Designed by British architect David Chipperfield and planned by Kraft+Kraft Architekten, the Carmen Würth Forum is a congress and cultural center of a special kind.
The symbiosis of art, culture and business makes it a place where visitors can be inspired and enjoy events in a completely new setting.
Beautiful, smooth metal ceilings on the exterior and modern expanded metal ceilings on the interior underscore the aesthetics of the Carmen Würth Forum and enhance its functionality. As acoustic ceilings, they make a significant contribution to the high acoustic effectiveness and sound absorption.
The expanded metal ceilings were coated with the matte surface Parzifal, which makes the ceiling appear even more homogeneous.
The Carmen Würth Forum has already been honored by the Bund Deutscher Architekten - Landesverband Baden-Württemberg with the Hugo Häring Award for its exceptional architecture: "The content, use and history of origins, as well as the architectural design and the way it deals with the surrounding landscape, make it a cultural contribution of a high order that attracts attention both regionally and nationally".
Construction project: Carmen-Würth-Forum
Photo and archietct: Kraft + Kraft Architekten
| | |
| --- | --- |
| Project data | |
| Mesh: | 42x11x2,5x2 |
| Colour: | RAL 1035, Parzifal 7005 |
| Surface metal ceiling: | 1100 m² |
| System: | Acoustic exterior ceiling F0, substructure, expanded metal |
| Function: | Acoustics, exterior ceiling |